Week 22 - 2023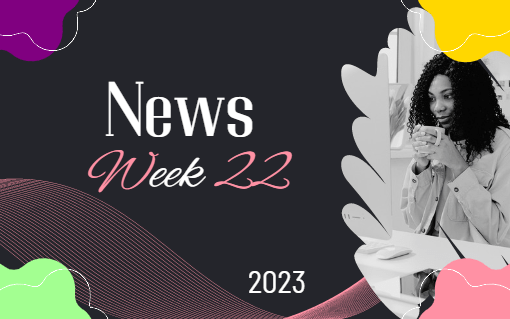 Post by Amina Delali, June 01st, 2023
Edited: June 03rd, 2023
Bing AI - What's Next
Microsoft made a decision to unleash Bing AI on Chrome and Firefox browsers, which indicates their ambition to leverage AI technology to improve the search experience. Doing so, it will join Google in the search engine market, by offering more options to the users, and diversifying the experiences available in the search engine market
The Apple VR headset
The VR experience may be enhanced by the new upcoming Apple VR headset, that may have a display 50 times brighter than the Oculus Quest 2's display.
The increased brightness is expected to enhance the visual quality, allowing for better color accuracy and sharper image details.
Netflix, What to Do?
You may already heard about it. Netflix is limiting account sharing and encouraging individual households to have separate profiles. You have one of these options:
transfer your profile
pay an extra $7.99 per month per user
cancel your Netflix outright
downgrade to a more affordable plan
The details of how to do it are available in the link below.
Not the Default Option, but it may be There
Not sure yet, but the idea of customizing the dark GNOME Shell UI to a lighter version is there. It can possible to enable a light GNOME Shell theme using dconf, but nothing is certain, considering that the GNOME 45 is scheduled to available in September, so things may change until there. For more details, check the link below.
Reddit API price increase consequences
Reddit has implemented a new pricing strategy for its API, which will make it much more expensive for third-party developers to use it. The new pricing can cost for certain apps $20 million per year, which may force third-party developers to either charge their users more or to find a way to make money without using the API. More details are available in the link below.
ChatGPT Playing Minecraft
ChatGPT uses a large language model called GPT-4 to generate text that describes what it sees in the Minecraft game world.
The text is then used to control the player character, allowing ChatGPT to explore the world, build structures, and even fight enemies.
The researchers believe that ChatGPT could be used to create new types of AI-powered games, or to train other AI systems to interact with the real world.
For more details, check the link below.
A PC smaller than a Wallet
Zotac showcased their new Zotac Pico PC with AirJet cooling technology at Computex 2023, smaller than a wallet or smartphone and features a fanless cooling system. A compact design that packs more power, with an Intel Core i3-N300 eight-core processor, and an LPDDR5 memory up to 16GB. The release is expected to be in Q4 of 2023, at a $499 price. For more details, check the link below.
The must to have for content creators
Ideal fo content creators and for gamers, the new Raider GE78 HX Smart Touchpad laptop from MSI revealed at the Computex 2023 features an innovative touchpad with a wide range of digital commands and shortcuts. The touchpad is the largest ever seen on a laptop and offers quick access to frequently used functions with a single tap. With Intel 13th Gen "Raptor Lake" processors and Nvidia's GeForce RTX 40 Series GPUs, the Raider GE78 HX Smart Touchpad is set to launch online in June, with a top-end model available for pre-order at $2,699. For more details, check the link below.
Something to say ?
If you want to add something, please feel free to do it by commenting below 🙂 .